A Nairobi-based lawyer has filed an application seeking the court to direct the Inspector General of Police, Hilary Mutyambai, to produce abducted Ethiopian businessman, Samson Tekklemichael.
In the application, lawyer Stanley Kang'ahi urged the court not to allow the businessman to be removed from the country, fearing that he may be secretly deported by security officials.
The lawyer also asked the police to reveal the businessman's whereabouts and release him immediately.
A collage of snippets of the white Subaru Forester that was used to Abduct Ethiopian Businessman Samson Tekklemichael on November 22 in Kilimani, Nairobi.
Kenyans.co.ke
In an affidavit to support the application, Tekklemichael's wife, Milen Mezgebo expressed her worry that her husband could be in danger.
She detailed that all efforts to enquire on his whereabouts from the police have been futile. She pointed out that her husband is involved in exporting gas cylinders to Ethiopia and wondered why the abductors did not follow the due procedure if he was involved in any unlawful businesses.
Video footage had emerged showing the businessman being picked up by people believed to be police officers to an awaiting vehicle on Friday, November 19.
In the clip, Tekklemichael can be heard pleading with witnesses to record the dramatic action. 
The abductors left the Bentley parked in the middle of a road in Kileleshwa before the businessman's wife was notified by a friend to pick up the vehicle. 
However, upon searching for the Subaru vehicle that picked the businessman on the National Transport and Safety Authority (NTSA) portal, it was established that the number plate belongs to a white truck manufactured in 2014.
The truck was registered in the country on June 3, 2015. The records further revealed that the lorry has only had two owners: a commercial bank and an individual.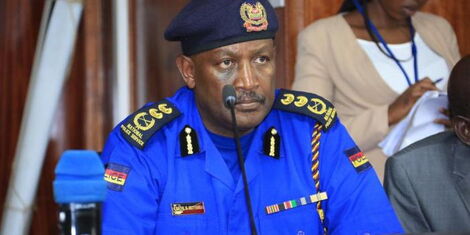 The Inspector General of Police Hillary Mutyambai speaking at a special seating held by the National Assembly's Committee on Education on February 26, 2021
Kenyans.co.ke
abduction
ADVERTISEMENT


Source link : https://www.kenyans.co.ke/news/70912-lawsuit-filed-against-ig-mutyambai-ethiopian-businessman-saga
Author :
Publish date : 2021-11-25 04:18:53