Advertisement


Published: September 16th 2021
---
Covid-19
---
The Police Minister (Man in THE HAT!). How do these people hold onto their jobs?
"With Covid-19, we've made it to the life raft. Dry land is far away."- Marc Lipsitch (epidemiologist) March 2021
The above quote is appropriate; the daily outpouring of news on the twists and turns of this pandemic are never-ending and yet, many people across the globe have adapted to a "new normal" which largely translates to covid-19 fatigue and simply moving on. We don't talk about it quite as much, there are many conspiracy theories and lately, the conversation has zoomed in on the "anti-vaxxers" who espouse all manner of theory, largely lacking in logic, but undoubtedly, they are putting themselves at far greater risk than those vaccinated. For many people, Covid-19 has slipped off the front page.
A quick, around the globe review, strongly suggests that this virus and its little army of mutants, is causing more chaos and concern than ever before. In Brazil, they have hit top speed with their vaccination program with 2 million doses per day being achieved in the month of July. Sao Paulo, the most populous city, has achieved 97 percent first dose vaccination of their adult population. Across the country 64 percent of the adult population has received their first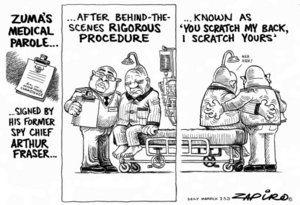 Covid-19
---
Zuma, by all accounts, never spent a single night in a prison cell. A disgrace!
vaccination putting them ahead of the USA. Contrast this with Africa where it is estimated that just over 3 percent of the population has been vaccinated. Brazil is not out the woods with the country still experiencing infections but at a far lower level than prior to the ramping up of vaccinations. The unpredictability of this virus is best illustrated by what's happening in New Zealand. A week ago, nationwide curbs were lifted; a week later there are certain areas now locked-down as the infection rate picks up to a reported 94 cases! Contrast this number with our daily average currently of 261 infections (that are known about, who knows what the real number is considering those infected showing no symptoms?). Israel was rated a "model country" in terms of a very high vaccination rate and low infection rate. Covid-19 has become a party spoiler with infections rising at an alarming rate there and has unleashed a drive to provide the population with a third vaccination shot. The progress of this virus resembles the motion of a chameleon (except, at a much faster pace); one tentative step forward and bang, a few steps back. The World Health Organisation score sheet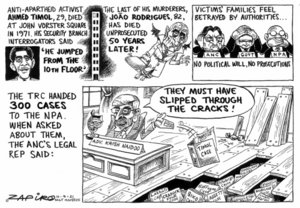 Covid-19
---
Sums up our situation. Prosecutions are rare and the justice system grinds on endlessly.
as at 13th September; 224 million confirmed cases, 4,6 million deaths and 3 billion full vaccine doses. South Africa's situation is as follows; 2,8 million confirmed cases, 84,8 thousand deaths. What is intriguing, and disturbing, is that only 18 percent of the adult population is fully vaccinated. Our geniuses in the "Command Council" and Health Services who sprout forth spasmodically on Covid-19, have gone on record stating that at least 60 percent of the adult population will be vaccinated by end 2021. Rough numbers; that leaves an estimated 26 million adults to be vaccinated in this time translating to roughly 2,2 million people per week! We have struggled to achieve 1 million doses in our best week so one wonders how these people do the maths.
An intriguing smorgasbord of previously unanticipated virus "impacts" continue to unravel. The virus is now infecting children in ever increasing numbers in many countries and the spotlight has swung to vaccinating those over 12 years of age. But there is a trade-off; health care workers and those vulnerable to infection in the 18 and over age group will need booster vaccinations first. Studies have shown that the immunity one gets from being vaccinated
Covid-19
---
Melbourne lock-down scene. Empty streets, masks, social distancing and don't venture more than 5 kilometres from home.
wanes after six to eight months. Many countries are about to offer booster shots. This is against the back drop of about 8,5 percent of confirmed cases globally being in children under 18 years old. In the USA, children between 12 and 15 years made up 4 percent of cases, but thankfully none of them had died. In South Africa the numbers are 4 percent infections in the 10 to 14 age bracket and 7 percent in those 15 to 19 years of age. Worrying! Epidemiologists are increasingly stating that this virus will never leave us and may become a routine illness like the common cold or flu. It might become one more disease that people might have to get regularly immunised against. There is a strong view that for Covid-19 to become mild, most people will need some immunity and the more people who are vaccinated will lessen the extent of the problem in the future. The debate now raging is the potential need to make vaccination compulsory. President Biden in the USA has already stated that he will use federal powers to require vaccination for many businesses, federal contractors and healthcare providers. There is increasing talk of vaccine passports being issued and being compulsory for those wanting to travel across borders. Bottom line; to stop the spread of this virus, it needs to run short of people susceptible to infection. Australia is proving to be an interesting country with Melbourne now in its sixth lockdown giving it the unfortunate title of being "the most locked-down city on the planet". What it has meant for the good folk of this city is 220 days of only being allowed to go out for groceries, medical treatment, a Covid test and don't stray more than five kilometres from home. Australia seems stuck while the rest of the world lives with Covid. It has had less than 80,000 confirmed cases and 1,116 deaths. Seems that being virus free at times resulted in vaccinations not being prioritised. That has changed with shots being ramped up. The lock-downs are resulting in a significant mental impact with Lifeline reporting its four busiest days on record last month. Clearly with only 35 percent of the global population fully vaccinated there is still a long journey ahead. The ebb and flow of this virus is wrapped up in terms of being like waves in the ocean. This is in itself is a problem as we all know that the surf pounds endlessly. Maybe we should liken it to a rollercoaster; up and down from crest to crest with unexpected twists and turns but hopefully, at some stage, the ride comes to a halt. The Northern hemisphere winter lies ahead with the possibility of the ride on the rollercoaster heading upwards. The delta variant is an incredibly potent variant and the view is that it will prove difficult for a new variant to outcompete it. One shudders to think of a twist which delivers new and more potent mutants. But a chilling note of warning from a prominent group of boffins studying this virus; "the virus will eventually stabilise and change only subtly thereafter. For the next two to three years, though, more variants will emerge and health authorities will race to provide booster shots against them. We will play a cat and mouse game." No end in sight!
And here, in sunny South Africa, our future as a country embraces its own twists and turns and the rollercoaster has a downward trajectory. Consider; the last blog was published on 2nd September, a little over two weeks ago. Since then we have had a number of chilling "political" events; the ANC unable to pay its own staff who chose to go on strike, the ANC unable to submit their councillor candidate list for roughly 95 municipalities ahead of the Local Govt election on 1st November, the ANC deducting employee tax at source but then not paying it over to the tax authorities, Zuma being released from his jail term on some trumped up medical grounds, by all accounts illegally, a number of murders in KZN of aspirant councillors, perpetrated by those who don't want to lose their spot at the feeding trough, the police managing to lose the DNA of roughly 90,000 possible murderers and rapists, the expropriation without compensation bill is about to be presented to Parliament for a vote(an economic bombshell), BEE laws have been tightened even further which will cause business disruption (serious skills shortages already in place due to rising emigration of people we can't afford to lose). It is sad and alarming and there is no doubt there are millions of people in this country who feel powerless and voiceless in terms of bringing the rot to an end. Flip Buys of Solidarity wrote an article entitled "Think big and then make it happen." He makes a few telling points; the ANC is not going to rectify the situation and it is up to citizens to create sustainable conditions which will enable us to stay here, free and safe. A daunting task but it will be a whole lot harder if we do nothing. We have had twelve elections (six national and six local) with voting based overwhelmingly on identity instead of policy. Multi-party democracy simply has not worked and we can be grateful we have a strong private sector and vibrant community sector. The anarchy which occurred two months ago was a serious wake-up call and the manner in which communities formed country-wide to safeguard property and lives was a turning point as private citizens finally realised that the ANC does not have the ability to govern. Build on those community forums and apply pressure where needed to make and implement decisions to prevent the ongoing madness of a government which does not want to make the poor richer through economic growth but would rather make the "rich" poorer by forced redistribution. There are many of my fellow citizens who will simply attach the negative tag to these ramblings; so be it. Just remember; "The pessimist complains about the wind; the optimist expects it to change; the realist adjusts the sails." – William Arthur Ward.
"The difference between stupidity and genius is that genius has its limits." – Albert Einstein
---
Advertisement


Tot: 0.073s; Tpl: 0.019s; cc: 7; qc: 23; dbt: 0.0066s; 1; m:saturn w:www (104.131.125.221); sld: 1;
; mem: 1.2mb
ADVERTISEMENT


Source link : https://www.travelblog.org/Africa/South-Africa/Eastern-Cape/Saint-Francis-Bay/blog-1062389.html
Author :
Publish date : 2021-10-09 07:39:31